ERCDC Programs & Services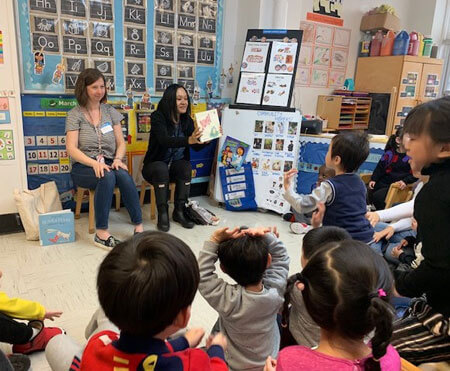 Preschool Special Education Classrooms
At ERCDC, we serve a multilingual, multicultural population of young children with special needs and their families within a comprehensive educational and therapeutic environment. Our students may demonstrate challenges that include delays and deficits in the domains of communication, learning, sensory-integration, motor, and social-emotional development or are on the autistic spectrum. Our center-based program provides a full day (5 hours) of high-quality instruction and clinical support. Our teachers and therapists support students in building language skills – during play, art, dancing, finger painting, music and movement and similar activities that are engaging, motivating, and fun. We want all of our students to associate language learning with positive experiences.  ERCDC's self-contained classrooms can serve children throughout the five boroughs of New York City.
Among the many reasons that parents choose ERCDC is because of our expertise in promoting language development. ERCDC utilizes evidence-based methodologies within a nurturing, play based classroom environment. Children build communication skills, become confident, and learn how to play with other children.
Visual Supports: A bridge to communication
Children with language delays may not respond to spoken instructions. At ERCDC, photographs, pictures and charts are paired with words. This method assists the children in comprehension and word finding.
For example, at ERCDC your child's photograph and printed name are used to help him or her identify their cubby, spot at the activity table, and placemat. The children "sign in" every day on a "Who's Here" photo chart that displays all of the children and their teachers. This creates a visual representation of the classroom community and helps children know that they belong. The daily picture schedule is used throughout the day to help children manage transitions and understand what activity is coming up next, as well as predict when favorite activities will occur.
At center time, the children use a picture chart to place their photo next to the activity that they want. Thus, the child is able to decide what they like and communicate this effectively without having to use words.
Toys are stored in bins that are labeled with the picture and word. The place where the bin belongs on the shelf is also labeled. In this way, each child uses their visual ability to navigate the classroom and master classroom routines.
Social Skills and Communication
Language is an integral part of social-emotional development. Children with language delays may seem impulsive or very withdrawn due to their inability to communicate. As children acquire effective communication skills, they learn to use words instead of actions to make their needs known. At ERCDC, the teacher uses visual supports and hands on learning to assist each child in developing positive social skills. Children learn how to take turns, share, tolerate frustration, and comply with classroom routines. Strategies include modeling and demonstration, practicing play one-to-one, picture charts depicting rules of play, visual problem solving kits, and stories about feelings and sharing, followed by small group practice.