About East River Child Development Center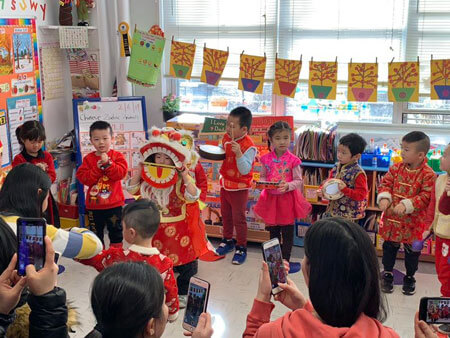 Parent / Family Partnerships
We believe that a child's first experience in school should be a happy one. This is best accomplished when teachers and parents work together to support your child's educational experience.
Tour
ERCDC schedules individual tours for families who have been referred by the New York City Department of Education Committee on Preschool Special Education (CPSE) Administrator. The school tour is an opportunity for ERCDC to learn about goals for your child, as well as your child's strengths, interests and needs.  Parents will be provided with a full tour of our school facility, and your child will visit in a classroom.  Subsequently, if your child is approved to attend ERCDC by the CPSE, parents are invited back to complete a registration packet with the school Social Worker.
Parent Orientation
ERCDC holds a parent orientation meeting to welcome new parents, and welcome back our continuing parents. We discuss what to expect in the first few weeks of school, and ways that we can work together to facilitate your child's positive adjustment to preschool. This is an opportunity for parents to ask questions and share information or concerns. In addition, we encourage parents to make connections and network together for support and resource in the coming year.
Communication
We understand that parents want to know all about how your child spends his/her day in school. Every child has a communication notebook and teachers send home class newsletters. Formal Parent-Teacher Conferences are held in the fall and spring, but parents may request a meeting with the teacher and/or clinical team member.
Topic Meetings
ERCDC also offers parent meetings based on topics of interest throughout the year. These include meetings on handling behavior challenges at home, alignment of the Prekindergarten Foundation for the Common Core to your children's activities, and the "Turning 5" transition to kindergarten process.
Classroom Events
Throughout the year our teachers hold celebrations of the curriculum theme. Parents are encouraged to come in and participate in creating an art project with their child. It is very special for the children to share this activity with their family and gives parents an opportunity to interact with the classroom, clinical staff and make connections with other parents. We also welcome parents to join the class for their child's birthday celebration.
Home Language
Many of our families speak Mandarin, Cantonese, or Spanish at home. Our social work department has a bilingual Spanish Social Worker and a bilingual Chinese Family Worker. We believe that in order to be an empowered partner in your child's education, parents need the ability to communicate openly with a support staff who is fluent in the language and culture of your family. Communications such as newsletters, parent letters, and memos, are translated into Chinese and Spanish. Parent-teacher conferences and topic meetings are conducted in Chinese, Spanish, and English.